8 VDL Citeas SLFA-181 Electric contribute to Oslo Airport's ambitious climate goals
With 8 Citeas SLFA-181 Electric, VDL Bus & Coach will be making a major contribution to the further electrification of Oslo Airport in Norway. The shuttle buses will go into service in 2020. Deployment of these articulated VDL vehicles will help achieve the climate goals set by Avinor Oslo Airport, which is already one of Europe's leading airports in terms of strict environmental requirements. The contract between all parties was signed on Thursday 1 August.
"The decision was taken to purchase the BRT model (Bus Rapid Transit), with which we won the prestigious international Red Dot Award in 2017," explained Frank Reichel, Managing Director VDL Bus & Coach Norway AS. "However, Avinor is interested in more than just the design. Opting for our electric buses says a great deal about the ambitions of the airport. It ties in seamlessly with the overall picture of Norway as a frontrunner in the field of electric travel in Europe."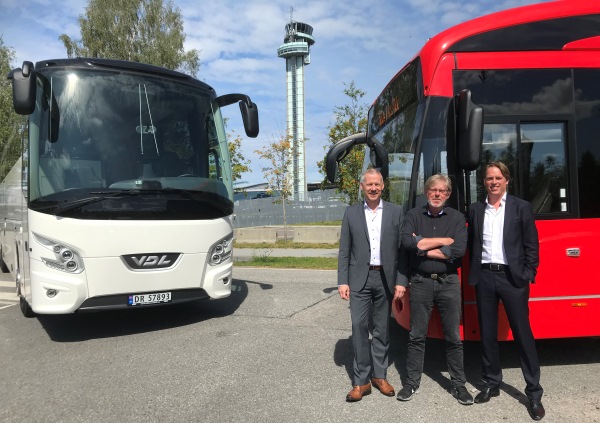 From left to right: Frank Reichel (Managing Director VDL Bus & Coach Norway AS), Mr. Finn Arve Guttormsen (Head of Buildings and Infrastructure Avinor AS), Marcel Jacobs (Commercial Director VDL Bus & Coach bv).
Shuttle buses
Every year, 1.2 million passengers are transported between the gates and the aircraft at Oslo Airport. In June 2018, Avinor Oslo Airport received financial support of around 1.6 million euros from the Norwegian organisation Enova. Owned by the Ministry of Climate and Environment, Enova's mission is to support development of climate technology and sustainable energy systems.
"The introduction of electric shuttle buses is an important measure for reducing emission of greenhouse gases at the airport," explained Stine Ramstad Westby, Executive Vice President operations and infrastructure at Avinor. Avinor aims to halve the total greenhouse gas emissions it can control by 2022, as compared with 2012. "The support from Enova makes it possible for us to implement environmentally friendly solutions faster. Although the initial purchase price of electric buses is higher than the diesel variant, this investment is a deliberate choice since in the longer term, electric vehicles generate higher returns."
Smart energy management
In the specific shuttlebus application, additional attention will be focused on the climate system and maintaining a comfortable temperature for the passengers, particularly in the winter period. Thanks to smart energy management with strategic charging sessions, even in extreme weather conditions, passenger comfort and vehicle availability are guaranteed.
VDL Bus & Coach uses a high capacity 216 kWh Li-Ion battery system on its Citeas SLFA-181 Electric. This offers the flexibility of higher energy capacity while retaining the advantages of rapid charging. The battery system is air-cooled and electrically heated so that the battery is always kept in optimum operating condition.
For the charging equipment, VDL Bus & Coach has once again joined forces with the Dutch company Heliox. For interim fast charging, a 300 kW rapid charger will be installed at the gate. By means of a pantograph on the roof of the bus, the battery can be fully recharged, in just a short time. To reduce the energy consumption by the bus, the interior temperature can be given an extra boost during the rapid charging session. 8 charging posts will be installed at the depot, each with a capacity of 30 kW. Here the buses are fully recharged at night, and if required, pre-heated.
Avinor
Avinor is a state-owned company, responsible for 44 Norwegian airports used annually by around 50 million passengers. Half of the total number of passengers travel to and from Oslo airport. Avinor has taken the lead in reducing greenhouse gas emission in the airline industry, including the development of electric aircraft and the supply of sustainable aviation fuel for jet aircraft. Avinor has more than 3,000 employees. Its headquarters are located in Oslo.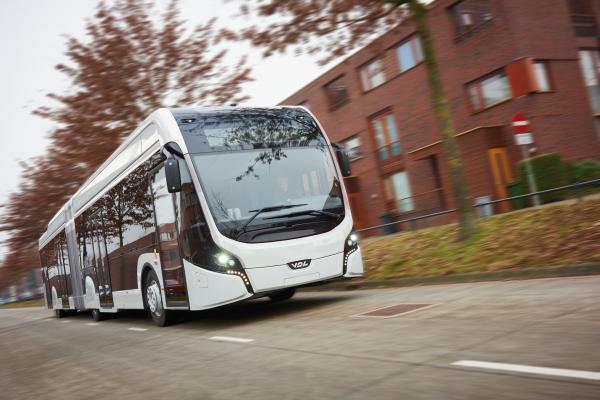 August 1, 2019