In early 2023, VDL Bus & Coach will open a new factory in Roeselare, Belgium. The new factory in Roeselare will, alongside Valkenswaard, be VDL's centre for e-mobility, allowing us to respond even better to the needs and demands of the European market. According to President Willem van der Leegte of VDL Groep, the CO2-neutral factory will be 'the most modern bus factory in Europe'.
FOUNDATION STONE
The foundation stone for the new location at the Krommebeek business park in Roeselare was laid on 8 February 2022. Preparations (groundwork and excavation) for construction started at the end of 2021.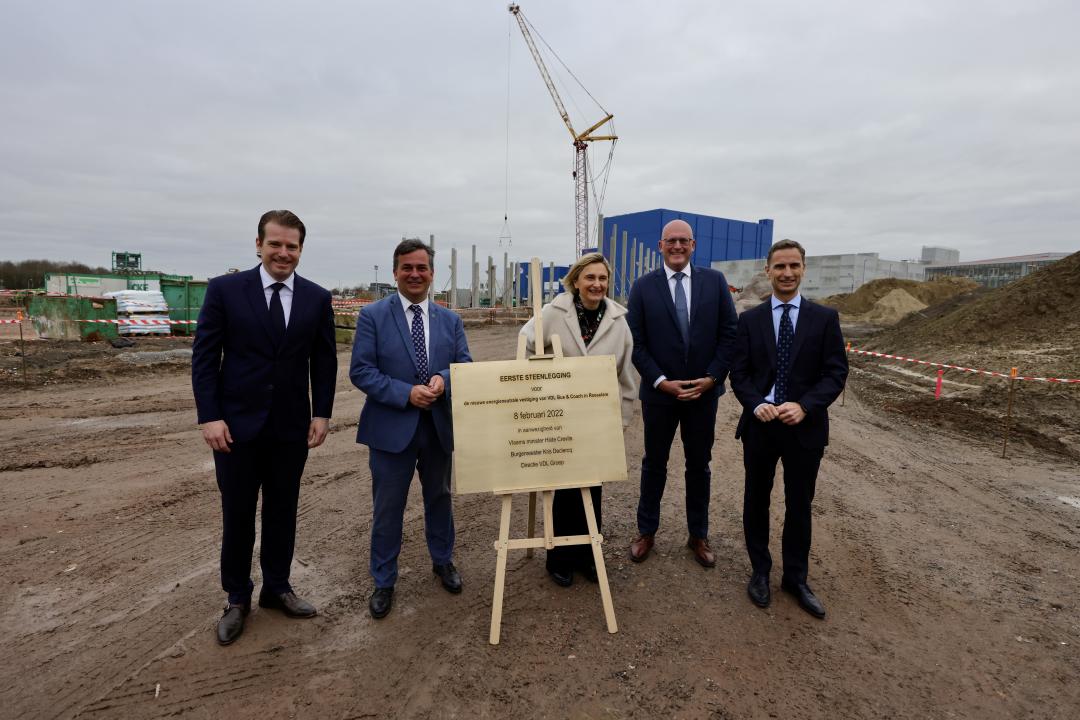 From left to right: Willem van der Leegte, President VDL Groep, Kris Declercq, Mayor of Roeselare, Hilde Crevits, then Flemish Minister of Economics, Innovation and Employment, Filip Malefason, Managing Director VDL Bus & Coach Belgium, Peter Wouters, Managing Director VDL Bus Roeselare
PRODUCTION HALL
The production hall of the new factory will cover 20,000 square metres. The production process will be compact and aimed at building more electric buses than is currently the case. In the preparation stage, we will work with smart pre-assemblies, which will make the lead time shorter and more efficient. By organising the production process more intelligently (fewer hours per bus), we will be able to double capacity in the new factory to a maximum of 800 buses.
'GREEN' TECHNOLOGY
Everything is set up to build electric buses in the most efficient way. This will be done in an energy-neutral environment, using 'green' technology. This includes: more natural light and less artificial light (healthier and safer for employees), the reuse of rainwater, the choice of medium-heavy concrete construction (flattens the heating and cooling cycle in summer) and green roofs on the offices, which lead to cleaner air and a cooling effect indoors.