8 VDL Futuras FDD2-141 for Dr. Richard Gruppe
VDL Bus & Coach has delivered 8 VDL Futuras FDD2-141/2600 to Dr. Richard Gruppe. Through their subsidiary Albus München, these double-deckers will be used on various long-distance routes on behalf of Flixbus. The main route for these buses will be the intercity line between Munich and Zurich.
"With VDL, we have found an efficient supplier that is service-oriented and provides the flexibility to meet our needs. The potential for deployment of VDL buses by other Dr. Richard Gruppe companies and a long-term collaboration is certainly present." Johann Strasser, technical director of Dr. Richard Gruppe.
Boris Höltermann, Managing Director VDL Bus & Coach Deutschland GmbH, is pleased with the delivery and looks forward to further development of the cooperation with Dr. Richard Gruppe. "For VDL Bus & Coach this is the largest delivery of double-deckers in Germany to be put in service in a Flixbus version. It is also the first delivery to Dr. Richard Gruppe, which with this large order for eight double-deckers has expressed its confidence in VDL Bus & Coach. We are very proud of this and look forward to successful cooperation. We are certain Albus München and the Flixbus passengers will experience many comfortable journeys with these luxuriously equipped VDL vehicles."
A pleasant experience for travellers
The eight double-deckers VDL Bus & Coach has delivered to Dr. Richard Gruppe are fitted with seating for 74+1+1 and a wheelchair space. The VDL Class 300 seats with deluxe upholstery and USB and 220V connections offer passengers a high comfort level and make travelling on long-distance routes an exceptionally pleasant experience.
A worthwhile investment
"The double-decker segment is growing, and this order confirms the growing popularity of the VDL Futura FDD2," said Boris Höltermann. And with good reason. The economical powertrain makes the VDL Futura extremely reliable. In addition, low CO2 emissions are guaranteed by the lightweight modular construction in combination with the economical powertrain and aerodynamic design. The low fuel consumption in combination with a high passenger capacity equates to a very profitable investment for the coach operator. Moreover, the ergonomic cockpit with logically placed driver functions, numerous advanced driving and safety systems, and a very good field of vision ensure a pleasant driving experience for both driver and passengers.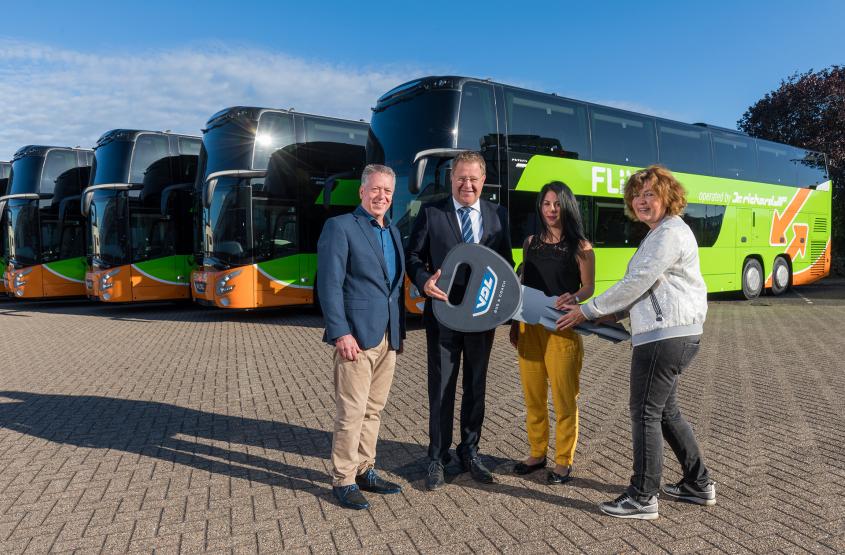 Albus München
Albus München GmbH, the youngest Dr. Richard Gruppe company, employs 65 people and is a Flixbus bus partner. There are 30 buses in operation on long-distance lines, which cover approximately 3.8 million kilometres per year.
Dr Richard Gruppe
The largest private bus company in the German-speaking area now operates more than 950 buses spread over its 18 operational transport companies. In 2018, these buses collectively covered more than 51.5 million km. With 1,510 employees working from 27 depots, the company achieved an annual turnover of approximately 158.1 million euros in 2018. Dr. Richard Gruppe is a third generation family business run by Dr. Ludwig Richard and his management team.
October 1, 2019