COVID-19 MEASURES
IN THE VDL FUTURA
Watch the film here with more information about various COVID-19 measures and solutions for the VDL Futura.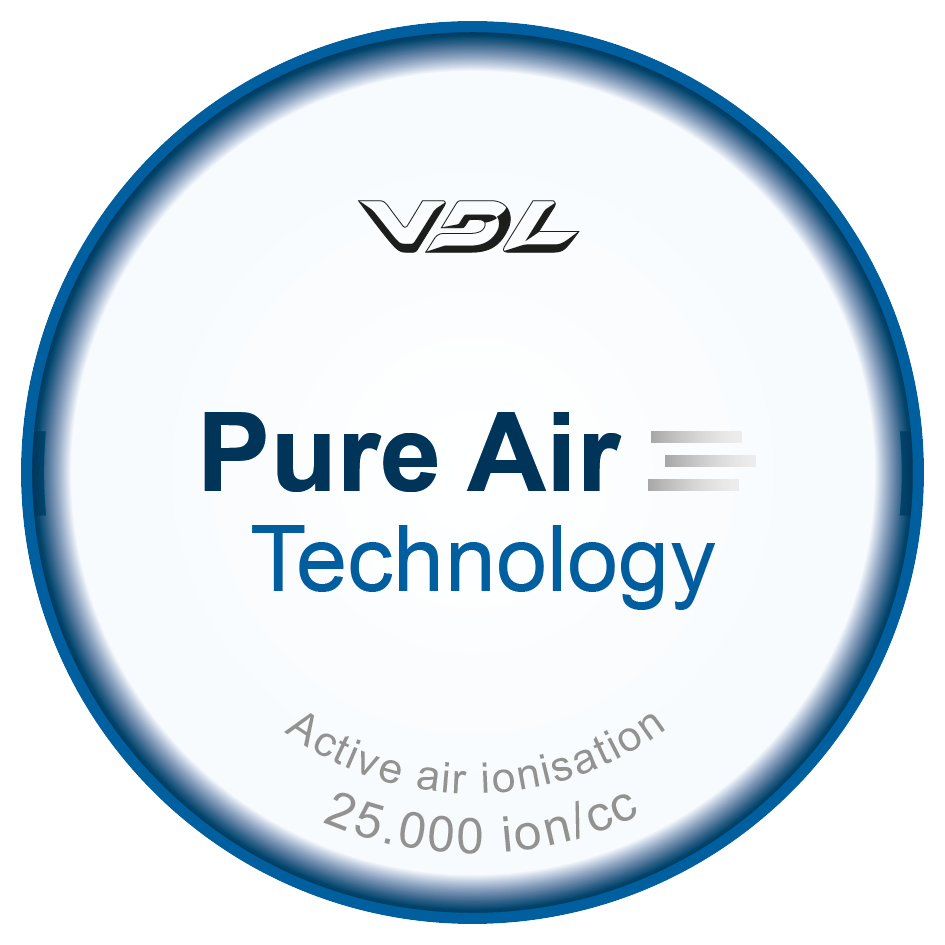 VDL Pure Air Technology
The COVID-19 virus spreads in different ways. Experience shows that infection is most often caused by virus particles on surfaces and aerosols in the air. In addition to the basic rules on board of the coach (disinfecting hands, wearing face coverings and keeping your distance), there is another important rule: replacing as much air as possible. By constantly changing the air, the presence of virus particles is reduced to a minimum.
In order to further reduce the possible presence of virus particles, VDL Bus & Coach introduces VDL Pure Air Technology in the Futuras. This technology involves active ionisation of the air by means of plasma cluster ionisers. The ionised air entering the passenger compartment from the air duct has such a high ion value that not only viruses but also, for example, fine dust and bacteria are rendered harmless. The VDL Pure Air Technology modules are placed out of sight inside the vehicle's air duct. The Pure Air system activates automatically when the vehicle is started up. This guarantees constant cleaning. The ionisation process is harmless to humans and the environment.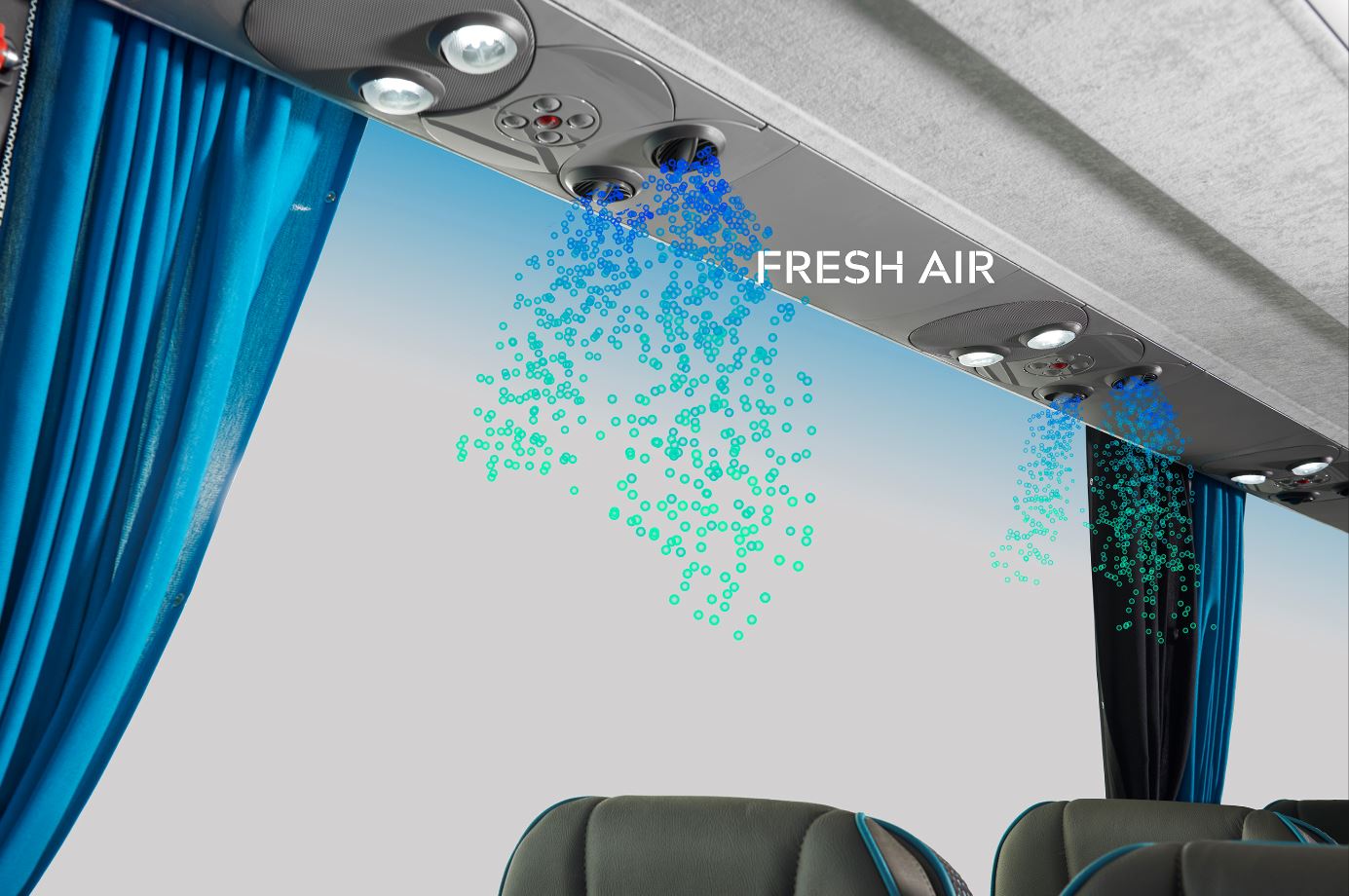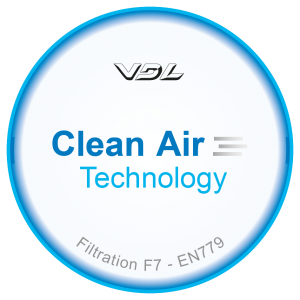 VDL Clean Air Technology
VDL Clean Air Technology offers the possibility to upgrade the recirculation filters of the climate system to an F7 grade. F7 filters trap up to 90% of particles with a size of up to 0.4 µm. This also includes the drops of moisture caused by talking or coughing. These moisture droplets can be the means of transport for smaller virus particles and are thus completely stopped by the F7 filter.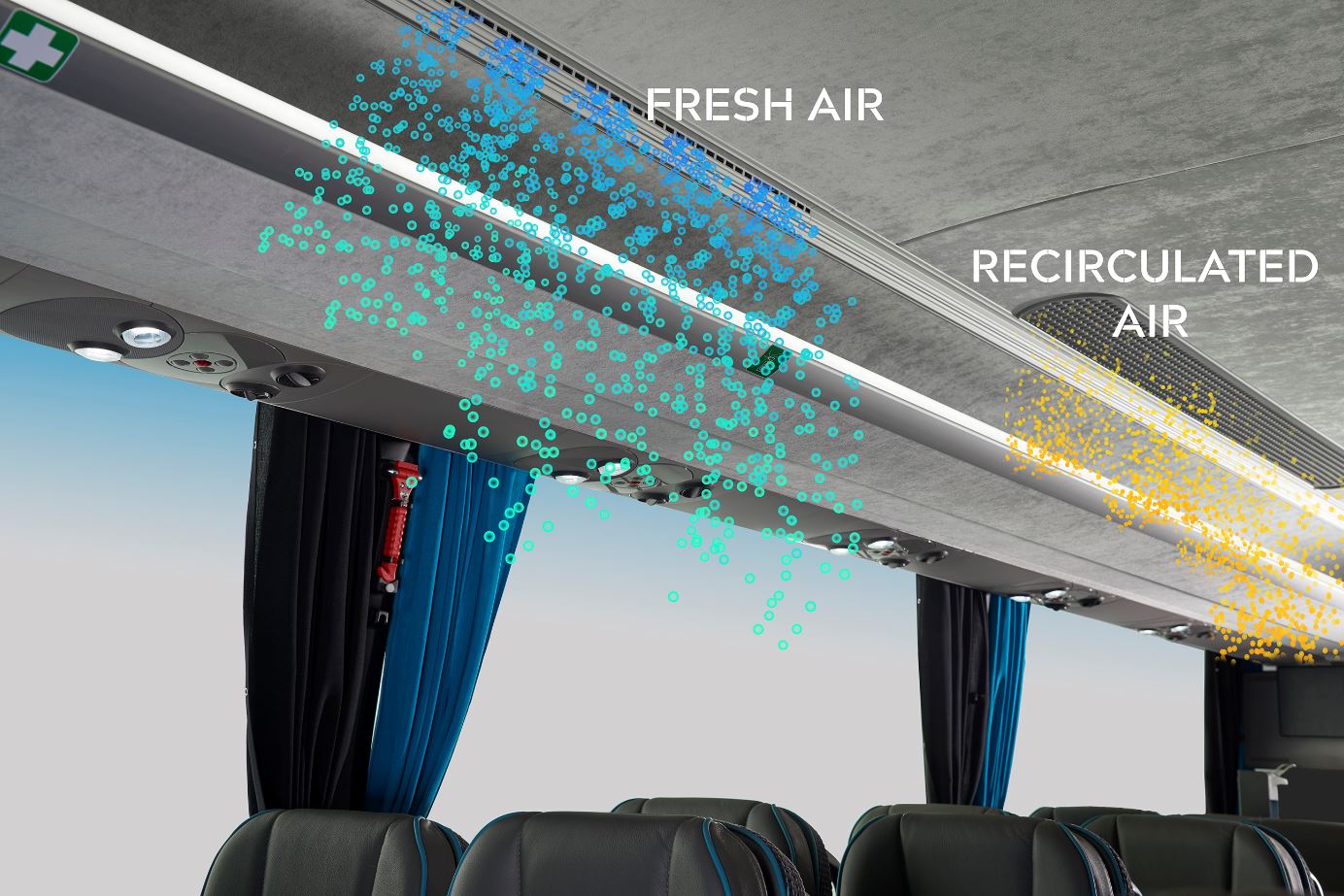 Disinfectant dispensers with manual operation
These manual disinfectant dispensers can be mounted at the various door positions. The dispensers are robust and prevent hand contact with the device by means of a long, elbow-operated lever that pumps out the disinfectant.
The standard 500 ml disinfectant vial can be easily refilled. Thanks to the collection tray, no disinfectant is spilled on the floor.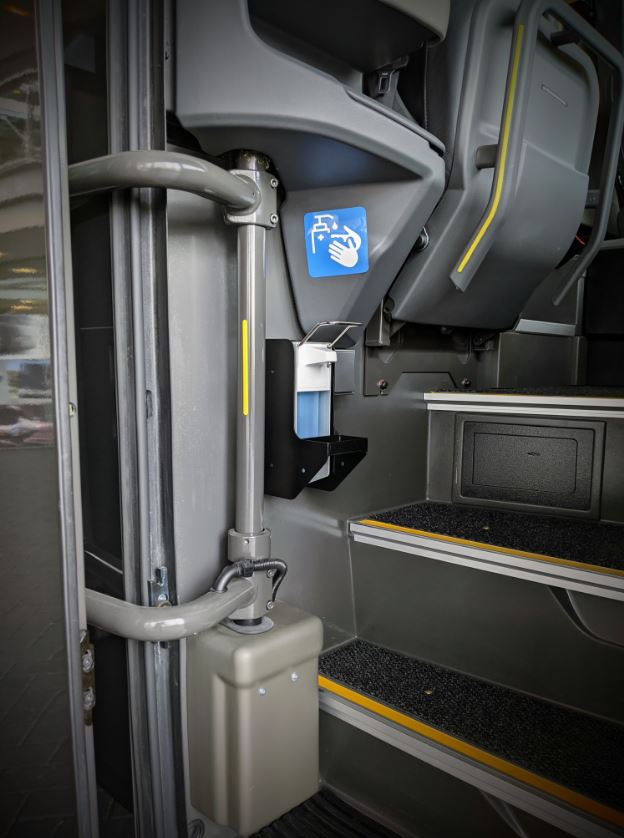 Driver and guide partition made of glass
In order to better protect the driver and guide against possible infection, VDL Bus & Coach offers the possibility to mount a glass shield on the standard partition bulkheads on both the driver's and the guide's side. This glass partition covers the entire area behind the driver or guide and meets current safety requirements.
Sticker packages
Alerting passengers to the new situation and thus creating awareness about how to act is an important step towards a safe journey. To better support this, VDL Bus & Coach has developed various sticker packages that use clear symbols to draw passengers' attention to the new rules that apply during the ride.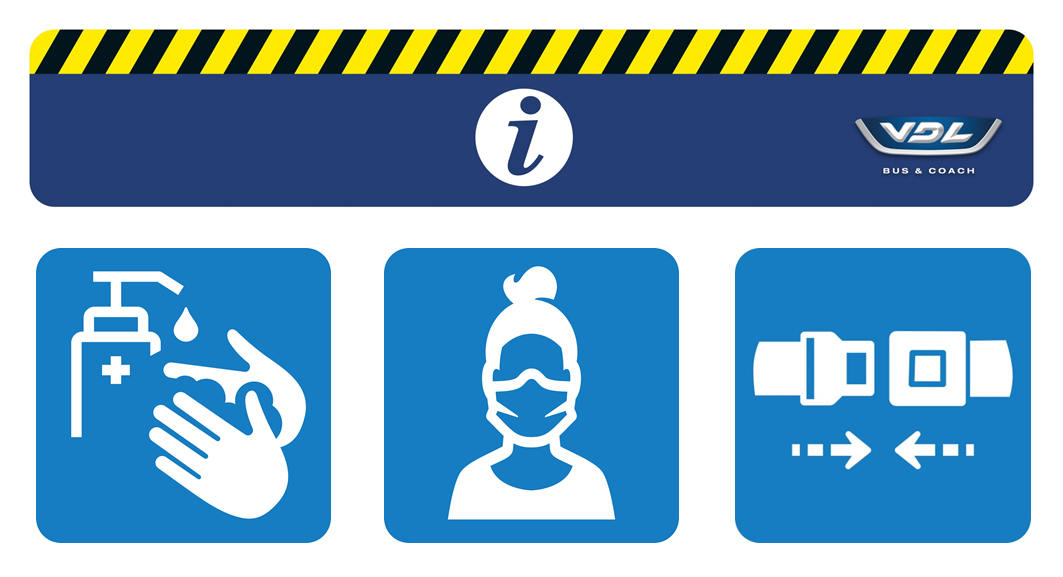 INTERESTED? PLEASE GET IN TOUCH WITH YOUR VDL PARTS CONTACT FOR MORE INFORMATION.